2020 Nissan Pathfinder vs. 2020 Honda Pilot | McAllen, TX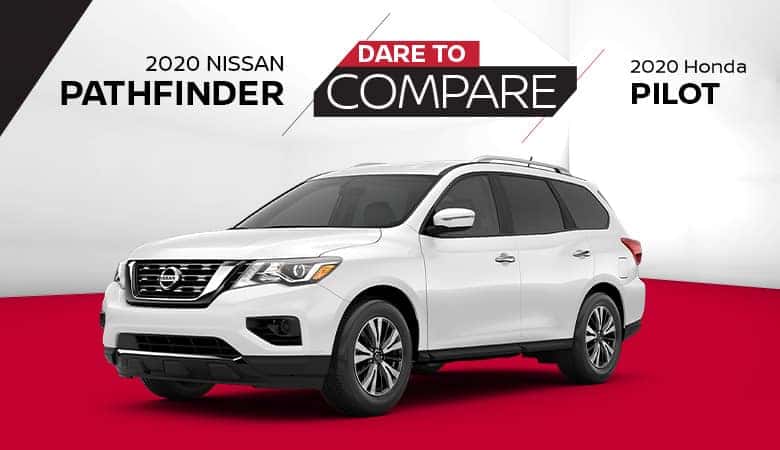 The 2020 Nissan Pathfinder is a highly reliable, spacious, and family-friendly SUV that is fun to drive and bursting with innovative tech. But how does it stand up to another segment favorite, the 2020 Honda Pilot? We lined the two SUVs up for a quick comparison, and the Nissan Pathfinder emerged as the better choice for families, adventurers, and everyday hard workers.
Performance
If you intend to do any towing with your SUV, be it a camper for family adventures, a boat for a weekend of fun, or even a small trailer for an upcoming move, you will want to go with the 2020 Pathfinder. Why? The 3.5-liter direct-inject gasoline V6 in the Nissan Pathfinder boasts 6,000 pounds of towing capacity. That is nearly twice as much as the 3,500 pounds of towing capacity afforded by the 3.5-liter V6 engine in the 2020 Honda Pilot.
On top of that, the standard engine in the also produces 284 horsepower — more than the 280 that comes from the Pilot.
Interior Space
Whether you have a growing family, a hobby with lots of equipment, or wanderlust that always has you out on the open road, interior space is important. That's why the 2020 Pathfinder makes more sense for most drivers. The Nissan Pathfinder boasts more second-row legroom than the Honda Pilot (41.7 inches compared to 38.4) and more overall passenger volume (154 cubic feet in the Pathfinder and just 152.9 in the Pilot).
Safety
While both the 2020 Nissan Pathfinder and the 2020 Honda Pilot sit at the head of their class in terms of safety, the Nissan Pathfinder still has the upper hand. That's because you can get the new Pathfinder with an Intelligent Around View® Monitor. There is no comparable feature on the Honda Pilot that gives you a bird's-eye view of your SUV.
---
Learn more about the 2020 Nissan Pathfinder at Bert Ogden Nissan in McAllen, Texas.