2020 Nissan Sports Cars | McAllen, TX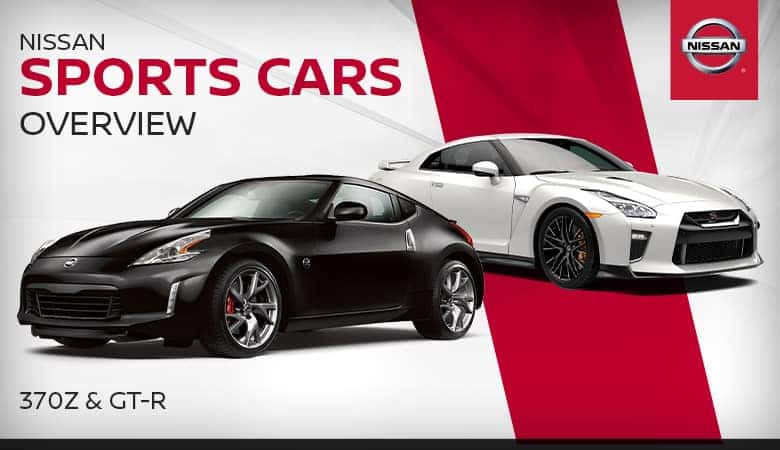 The 2020 sports car lineup from Nissan includes the 2020 Nissan 370Z Coupe and the 2020 Nissan GT-R. Both performance cars are widely appealing to successful professionals, doctors, lawyers, real estate moguls, and more because everything about the models are impressive — from the exterior styling to the innovative features to the roar of the engines to the advanced technologies.
2020 Nissan 370Z Coupe
The 2020 Nissan 370Z Coupe is an all-out performance beast, available with one of two engines: the 3.70-liter V6 that cranks out 332 horsepower and 270 lb-ft of torque or the 3.7-liter NISMO® engine that produces 350 horsepower and 276 lb-ft of torque, making it the most powerful Nissan Z® engine ever designed. You can choose between a performance-oriented six-speed manual transmission or a seven-speed automatic transmission, with select modes. For enhanced performance, the 370Z Coupe also boasts an advanced front midship platform, a 55/45 weight distribution, and carbon-fiber and other lightweight components.
2020 Nissan GT-R
If you are craving even more power from Nissan, go with the 2020 GT-R. The sports car takes its power from the legendary 3.8-liter twin-turbo V6 engine, which serves up 565 horsepower and 467 lb-ft of torque. Or, opt for the GT-R NISMO variant to get 600 horsepower and 481 lb-ft of torque. The engine boasts IHI turbochargers on each bank and a closed deck and ladder frame engine block design.
The cockpit of the Nissan GT-R is driver focused. It features a Bose® audio system, Sport seats, a Nissan Navigation system delivered via an 8-inch color multi-touch screen, a Rearview Monitor, and Apple CarPlay® smartphone integration, which you can operate via touch screen or the Display Commander.
---
Request more information about these impressive models, and be among the first to feel the power of these Nissan sports cars with a test drive at Bert Ogden Nissan.